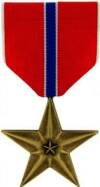 In the name of the President of the United States, the Commanding General,

Fleet Marine Force, Pacific

takes pleasure in presenting the BRONZE STAR MEDAL to

CORPORAL THOMAS EDWARD BOON

UNITED STATES MARINE CORPS

For service as set forth in the following

CITATION:

           "For heroic achievement in connection with oper­ations against insurgent communist (Viet Cong) forces while serving as a Scout attached to Company I, Third Battalion, Third Marines near Phu Lay Hamlet, Republic of Vietnam. On 21 July 1965, while a member of the lead element for Company I, Corporal BOON and his comrades were suddenly taken under a heavy volume of enemy fire. While returning the enemy's fire, the scout team radio operator was wounded and unable to reach protective cover. Immediately realizing the precariousness of the wounded Marine's exposed position, Corporal BOON, disregarding the intense hostile fire, rushed forward to his aid. Seemingly oblivious to the continuous volume of incoming enemy fire, Corporal BOON administered first aid to his fallen comrade and carried him to safety. After transporting the radio operator to cover, Corporal BOON once again fearlessly proceeded through the intensifying enemy small arms fire in order to recover the wounded Marine's equipment. Corporal BOON's courageous actions and inspiring devotion to duty in the face of grave personal risk were in keeping with the highest traditions of the United States Naval Service."

Corporal BOON is authorized to wear the Combat "V".

V. H. KRULAK

LIEUTENANT GENERAL, U. S. MARINE CORPS

COMMANDING