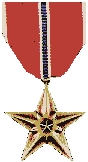 The President of the United States takes pride in presenting the

BRONZE STAR MEDAL

posthumously to

LANCE CORPORAL FREDDIE BROOKINS

UNITED STATES MARINE CORPS

(In lieu of the Citation, the following was taken from the VirtualWall.org site)


"A Bronze Star with V for Valor has been awarded posthumously to the parents of a young Philadelphia Marine killed in Vietnam while his company was under attack by a larger enemy force. The award was presented in a ceremony at the Philadelphia Naval Base, to Mr. and Mrs. Willie Brookins of 4310 Parrish St. Their son, Lance Corporal Freddie Brookins, 20, a former Overbrook High School track star, was killed on March 6, 1967. He was their only child. According to his citation, he killed six enemy guerillas while providing security for his platoon when the Marines were attacked by heavy automatic weapons fire. He was killed by enemy fire.
Transcribed from a news clipping from the the Philadelphia Inquirer (October 20, 1968) by The Virtual Wall staff. Brookins won several trophies while on the Overbrook High School track team. He enlisted in the Marine Corps in March 1967 and was shipped to Viet Nam in October.


Brookins was assigned to Company M of the 3rd Battalion, 3rd Marines, 3rd Marine Division. The 20-year-old lance corporal, a rifleman, fire team leader and grenadier, was killed near Con Thien on March 6, 1968. He was survived by his parents."