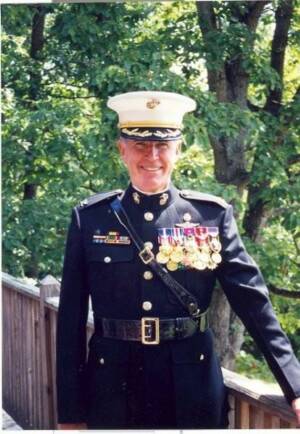 Col JOHN W RIPLEY MEMORIAL FOUNDATION

The Colonel John W. Ripley Memorial Foundation Trust has exclusive legal control over all contributed assets.  Our federal tax identification number is 38-6892768.  This trust is organized as a
501(c)(3) tax exempt
organization and, as such, is eligible to receive tax deductable contributions pursuant to 170(b)(2)(iii) for both federal and state tax purposes (unless the IRS otherwise determines).
THE COL JOHN W RIPLEY MEMORIAL FOUNDATION TRUST

The trust has been established for the principal purpose of providing funds to have a Memorial created and installed at the USMC Museum in Quantico, Virginia.

The memorial will include a black Granite monument with bronze plaque of Col. Ripley.  It is intended to include the names of each and every Marine who served in Lima Company while Col. Ripley was company commander, especially those who gave their lives while defending our country under Col. Ripley's leadership.

The project requires approximately $70,000 to complete.  Any funds remaining after completion will be donated to the Marine Corps museum in the name of John and Moline Ripley.

     Please send your contributions to:




Charles L. "Chuck" Goggin




David Schwirian
1224 Roundhouse Lane


or


1605 Daline Street
Alexandria VA 22314


  Springdale AR 72762
Make check payable to "Col John W Ripley Memorial Foundation Trust"

All donations will be acknowledged