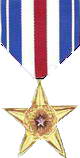 The President of the United States takes pleasure in posthumously presenting the

SILVER STAR MEDAL to

PFC THOMAS M. BARROW, Jr.

United States Marine Corps

For service as set forth in the following

CITATION:

    " The President of the United States of America takes pride in presenting the Silver Star (Posthumously) to Private First Class Thomas M. Barrow, Jr., United States Marine Corps, for conspicuous gallantry and intrepidity in action while serving as an Assault Section Team Leader with Company K, Third Battalion, Third Marines, Third Marine Division (Rein.), FMF, in connection with combat operations against communist forces in the vicinity of Khe Sanh, Quang Tri Province, Republic of Vietnam, on 26 April 1967. Conducting a search and destroy mission against the heavily defended and strongly fortified Hill 861, a strategic area commanding the approaches to Khe Sanh, Company K encountered heavy enemy resistance in assaulting the objective. As the intensity of the conflict increased, it became necessary to remove Marine casualties from the hill to secure ground for medical evacuation by helicopter. The only access to this area involved crossing an open space under heavy enemy fire. Displaying daring initiative and heedless of his own safety, Private First Class Barrow assisted his wounded comrades three times across approximately one-hundred meters to safety, each time returning of his own accord. While helping a fourth Marine to safety, Private First Class Barrow was mortally wounded. His selfless determination to aid his comrades and dedication to duty were an inspiration to all who observed him. Private First Class Barrow's uncommon valor, courageous actions and loyal devotion to duty were in keeping with the highest traditions of the Marine Corps and the United States Naval Service. He gallantly gave his life for his country."