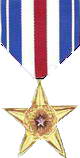 The President of the United States takes pleasure in presenting the

SILVER STAR MEDAL posthumously to

PFC HENRY R. BROADTMAN,  Jr.

United States Marine Corps

For service as set forth in the following

CITATION:

    " The President of the United States of America takes pride in presenting the Silver Star (Posthumously) to Private  First Class Henry R. Broadtman, Jr. , United States Marine Corps, for conspicuous gallantry and intrepidity in  action while serving as a Rifleman with Company L, Third Battalion, Third Marines, Third Marine Division (Rein.),  FMF, in connection with combat operations against the enemy in the Republic of Vietnam. On 26 January 1969,  while participating in Operation TAYLOR COMMON near An Hoa in Quang Nam Province, the lead elements of  Company L came under intense automatic weapons and small arms fire from a well-concealed North Vietnamese  Army platoon. Although painfully wounded in the initial moments of the attack, Private First Class Broadtman  unhesitatingly directed effective suppressive fire against the enemy, thereby enabling his platoon to launch an  aggressive counterattack. Observing a wounded Marine lying in an area dangerously exposed to the hostile fire,  Private First Class Broadtman fearlessly maneuvered across the fire-swept terrain to assist his injured comrade.  While engaged in this selfless task, he was mortally wounded. His heroic actions and sincere concern for the welfare  of is comrade inspired all who observed him and contributed significantly to the accomplishment of his unit's  mission. By his courage, bold initiative and unwavering devotion to duty, Private First Class Broadtman upheld the  highest traditions of the Marine Corps and of the United States Naval Service. He gallantly gave his life for his  country."