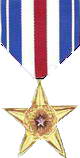 The President of the United States takes pleasure in presenting the

SILVER STAR MEDAL to

Sgt RICHARD S. CHACON, Jr.

United States Marine Corps

For service as set forth in the following

CITATION:

    " The President of the United States of America takes pleasure in presenting the Silver Star to Sergeant Richard S. Chacon, Jr. , United States Marine Corps, for conspicuous gallantry and intrepidity in action while serving as a Platoon Commander with Company K, Third Battalion, Third Marines, Third Marine Division (Rein.), FMF, in connection with operations against the enemy in the Republic of Vietnam. On 5 July 1968, Sergeant Chacon's platoon was conducting a combat patrol near the Demilitarized Zone in Quang Tri Province when the lead squad came under a heavy volume of North Vietnamese Army mortar, sniper and automatic weapons fire, sustaining several casualties. Reacting immediately, Sergeant Chacon skillfully deployed the remainder of his men into effective fighting positions on higher ground overlooking the hostile emplacements and, with complete disregard for his own safety, crawled across the fire-swept terrain to the pinned down element. Skillfully adjusting supporting artillery fire and fixed-wing air strikes on the enemy positions, he utilized this covering fire to lead a rescue party into the hazardous area, approaching at one time to within fifty meters of the hostile emplacements, and evacuated the wounded Marines. When all casualties had been removed, he then capably adjusted artillery fire and air strikes on North Vietnamese positions in proximity to the pinned down squad and quickly maneuvered his men to more tenable locations. By his courage, aggressive leadership and unwavering devotion to duty at great personal risk, Sergeant Chacon was instrumental in accounting for fifteen hostile soldiers confirmed killed and upheld the highest traditions of the Marine Corps and of the United States Naval Service."